The number of households subscribing to some form of video-on-demand (SVOD) service continues to increase in the Czech Republic. Netflix still has the strongest position.
The number of households that subscribe to a pay video-on-demand (SVOD) service is growing in the Czech market. According to ATO-Nielsen Admosphere's introductory research available to MediaGuru.cz, 25% of Czech households regularly use a pay service that allows them to watch movies and series of their choice. The data shows that most subscribers of SVOD services increased between 2020 and 2021 (from 5% to 19%). Also last year, the number of households paying for SVOD gradually increased in each quarter of the year.
Taking into account the total number of households in the Czech Republic, which according to ČSÚ statistics amounts to 4.5 million, the penetration of pay video currently stands at 1.12 million households. This means that if we calculate an average of 2.3 members per household, this means approximately 2.6 million users. This segment is now being targeted by new services to be launched in February by TV group Prima with its Prima+ offering and multinational SkyShowtime.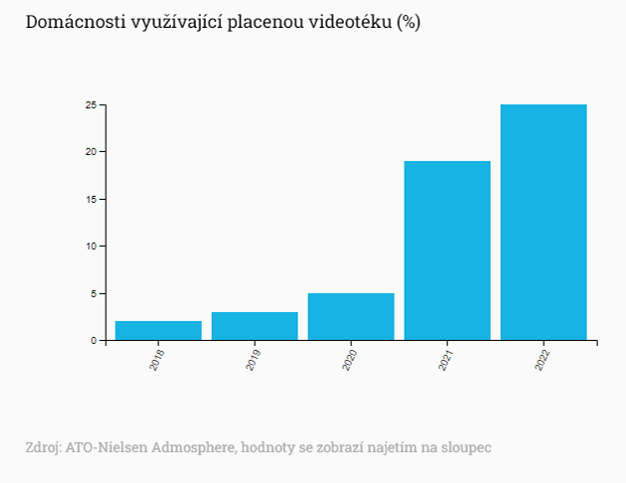 According to that research, Netflix has the strongest position in the Czech market so far, with almost 20% of households subscribing. This is followed by HBO Max (7%) and a balanced position is held by Voyo (5%) and Disney+ (5%). The latter entered the Czech market in mid-June last year.
Also according to CSO data, the number of pay video-on-demand users increased last year and in total reached the 2 million mark. The 25-34 and 16-24 age groups are the most attracted to pay video services.
Source:
mediaguru.cz