Czech TV's stations remained the strongest domestic TV group in April in the over-15 general audience. Prima improved the most year-on-year, mainly thanks to its thematic channels.
Czech TV's stations again exceeded the 30% share threshold (30.39%) in the broader 15+ group in April this year, becoming the strongest TV group in this audience group. This is according to data from the official ATO-Nielsen Admosphere measurement.
A year-on-year growth of more than three percentage points put the Prima TV group in the lead in prime time 15+ (19:00-23:00) with 30.25% in April. However, the lead over Czech TV stations is very narrow and if the prime time range was defined as 18:00-22:00, Czech TV stations would be narrowly first (30.04% vs. 29.72%).
In the 15-54 and 15-69 audience categories, Nova remained the strongest group. However, the position of all three main groups is fairly balanced in the all-day 15-69 broadcast.
Share of TV groups (%), April 2022, all day and  Share of TV groups, April 2022, prime-time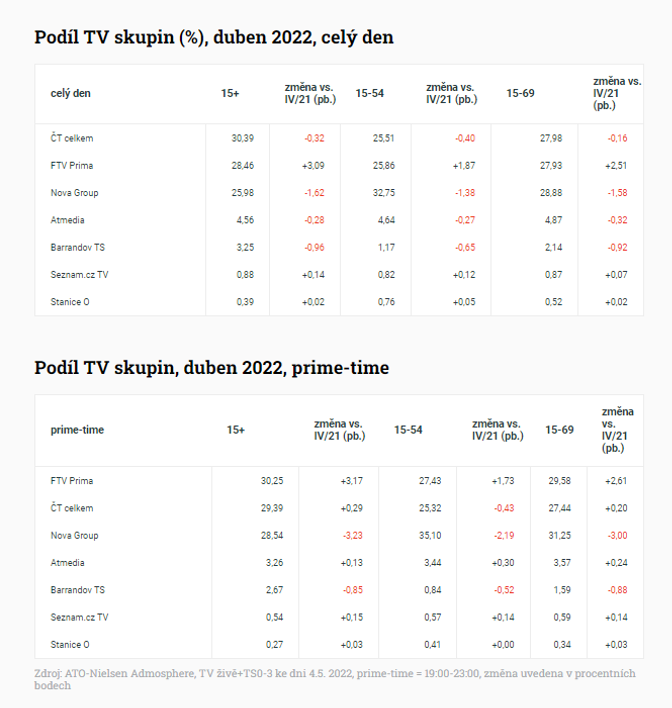 Source: ATO-Nielsen Admosphere, TV Live+TS0-3 as of 4 May 2022, prime-time = 19:00-23:00, change in percentage points
In year-on-year comparison, Prima Love, CNN Prima News, Prima Krimi, CT2, Prima Max, ČT Sport improved the most in April, helped by new stations Prima Star, Prima Show and Nova Lady.
Source:
mediaguru.cz