Video advertising will be an integral part of TV ad sales of Media Club from 2022. Media Club wants to prevent losing ad GRPs in time-shifted viewing, describes Prima's COO, Vladimír Pořízek.
Media Club intends to interconnect all forms of video content in ad sales next year. This should result in the expansion of Media Club's ad space and more effective addressing of target groups. Online eGRP will become an integral part of campaigns broadcast by Media Club starting from 2022. "We include it in order to be able to reach all target groups. There is a trend that younger viewers leave for online. We are preparing other programme changes applying a 'total video' strategy to reach all viewers across all of our platforms," described Prima's COO Vladimír Pořízek.
Better targeting should be facilitated by sales based on preferred target groups of clients. Media Club wants to protect its ad GRPs that are decreasing due to ad skipping resulting from the growing share of time-shifted viewing on IPTV. Media Club has a plan in place that should prevent ad skipping in IPTV next year.
The business policy of the agency for the Prima, Barrandov, Óčko and Atmedia TV groups and several other thematic stations anticipates that ad prices will grow by 11-16% next year. This is how it responds to this year's high TV ad demand and it continues its effort to settle the prices of TV advertising. This is why higher inflation (+15%) hits clients with the highest investments whose basic CPP is lower compared to clients with lower volumes (inflation of +10%).
Target group bundles based on advertiser preferences are new in the business policy. You have stated that you have defined about 25 target groups. How will you work with them?
We requested information from clients and agencies about what target groups the clients target by individual products. Based on this, we have optimised bundles in order to distribute our GRPs most effectively. We are now able to offer them bundles that are optimised both for clients and investors. In general, client affinity should improve.
Media Club has already included sales focusing on target groups in its business policy. How is the new approach distinguished from the former one?
These sales are still available if some clients are interested. However, originally we sold TRPs in individual target groups and this arrangement meant that planning was prepared by TV. As a result, agencies were ruled off a bit and did not demand this product. Under the new model we are introducing, the planning remains with agencies and we should better use our inventory thanks to optimisation. We are still selling to the 15-69 group but we have optimised the bundle so that clients get what is best for them.
Example of station shares by TG, source: Media Club
Is there any extra charge?
No, there is no extra charge. Some clients already had adjusted bundles, some did not. But we have never optimised it in respect of the inventory we produce. You cannot imagine that there will be a sudden surge in affinity. Back in the days when we were controlled by MTG, in some countries they were able to achieve an 8% improvement through optimisation. In our landscape, I think that we could reach 3%. Online should bring even more interesting improvement. In targets that are smaller and narrower but operate online, affinity should grow significantly.
eGRP is what you include in your business policy for 2022 but you have already used it this year. Has it become a fixed part of campaigns now?
In this year's business policy, we mentioned eGRP as a tool to be used prospectively if needed. But now we are introducing it in the bundle as its fixed part.
To what extent?
Representation varies according to target groups. It is higher with younger target groups where the role of online is significant. For example, two thirds of
Like House
which targets young audience was watched live on the internet. For young target groups it may represent a 5- or 6% share within the bundle. Ad space in online video accounts for about 1.5 % on average.
How do you work with eGRP and TV GRP?
We will specify it in more detail but the initial assumption is that one GRP in the 15–69 group is 72 thousand viewers, which is like 72 thousand impressions.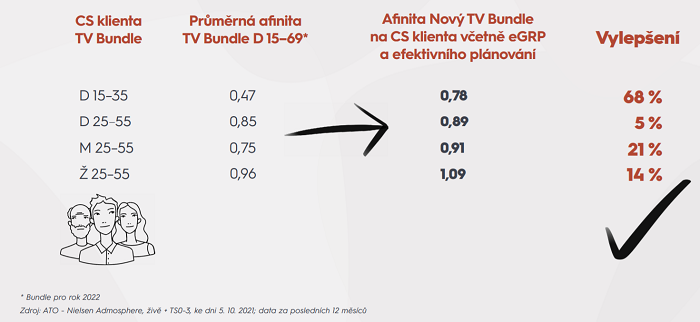 Client TG, TV bundle
Average affinity, TV bundle D15-69*
New TV bundle affinity per client TG including eGRP and effective planning
Improvement
*Bundle for 2020
Source: ATO - Nielsen Admosphere, live + TS0-3, as of 5 October 2021, data for the last 12 months
Planned improvement of campaign affinity, source: Media Club
Dou you expect that the new price policy will solve the situation you were facing this year, i.e. that there was lack of inventory to satisfy ad campaigns?
We strongly believe so. We are ready to do anything we can to achieve this goal. We have already refused budgets of some clients with low prices and are ready to continue. I am convinced that we will deliver campaigns of all clients that order them in time next year.
You also plan to offer online ads as one of the options for operators to address the issue that viewers skip ads in IPTV. You want to prevent this starting from March 2022. How will you include online ads in IPTV? 
We have known for some time that we have been missing GRPs in IPTV. At present, IPTV penetration reached a point at which we no longer can tolerate the situation. In principle, we have three options. We will place ads from linear TV in IPTV that will not be skippable and will be measured by people meters, or online video ads will be shown and measured by script instead. The third option is ad-free but viewers will have to pay for this service. We will modify the price gradually but it will range between CZK 50-100.
Are you willing to shorten ad breaks in IPTV?
As for operators, we are prepared to allow for shortening breaks to about 2-3 minutes. Operators will receive timestamps showing the start of a programme and an ad. We will thus indicate parts that we do not want viewers to skip and parts that may be skipped. This solution should be much more comfortable for viewers than today.
Will you manage to prepare everything so that it can be launched on 1 March?
We have already announced to operators that we prohibit ad skipping. If they want to take one of the options - shortened ads or dynamic ads - they have to sign a contract with us. Disallowing ad skipping is the first step of which we have already informed them.
And what was their response?
As we expected, they do not like it much. But if they want to have our channels it is a condition of our cooperation. Ad skipping in IPTV results in our loss of about over CZK 200 million a year, which is not negligible, and the amount is going to grow. Time-shifted viewing in IPTV services represents about 50% of the total viewership.
Source:
mediaguru.cz