The fairy tale of Cinderella who turns into a princess may have its reflection in the business world. The grimy beauty could be called Voyo. Nova TV established its video library in 2012 but forgot about it for many years. And now? It is the epicentre of digital transformation of the Czech commercial number one. Last year, it attracted hundreds of paying subscribers and is catching up with Netflix. Its head Daniel Grunt would also like to repeat another famous story - the one about Seznam and Google, just in a streaming setting.
In the autumn of 2020, Daniel Grunt was given a tempting offer to return to Nova, or the CME Group that is Nova's owner, after ten years. "Having big plans is one thing but allocating resources and making it a real priority is another, I thought at that time," recalls the veteran of the domestic new media scene and the interconnection of TV and the internet. Except for Nova, he led the Centrum.cz portal and managed digital activities on Prima for seven years.
So what made him agree?
"One of the things that convinced me that they were taking it seriously in Barrandov was the series Ordinace v růžové zahradě and a plan that it would disappear from TV screens and would move exclusively to Voyo. It is an iconic series that was watched by a million people on average. I figured it was a real change and it would be nice to be there."
Now, nearly a year since Grunt's arrival, it is clear that he was not wrong and that Nova's online expansion is real. After all, the PPF Group, which acquired Nova and other stations in Central and Eastern Europe that grouped into CME in 2020, has never hidden the ambition. The strategy that was co-designed by Petr Kellner has been put into life by CME's CEO Didier Stoessel and Daniel Grunt, holding the position of Chief Digital Officer of CME. Voyo is a kind of his laboratory.
The experiment has been successful so far. He does not want to announce officially the exact number of the current paying users of Voyo. Neither does he comment on an older piece of information that it was about 350 thousand people towards the end of the year. "At this time last year, we were somewhere around 60 thousand. We did not expect to grow that much in 2021, we were surprised. The annual plan was achieved in September," says the 46-year-old graduate of economics at the Czech University of Life Sciences Prague and the MBA programme at ESCEM in Tours, France.
They have overtaken themselves, admitted Didier Stoessel in an interview for Forbes, saying "When I was asked a year ago when I took office what I was dreaming about, I mentioned one million subscribers in the Czech Republic and Slovakia within five years. Now we are already at a third - in less than a year."
It is a success but also a commitment. "It is still true that by 2025 we want to have a million subscribers but in the light of last year's performance we have informally adjusted and accelerated our roadmap a bit. We would like to keep the pace." Is the goal for this year having at least half a million paying accounts or even 600 thousand? And the million in 2024? "No comment."
Monthly subscription to Voyo costs 159 crowns and the TV states that it provides no discounts or vouchers and the only advantage you can have is seven-day limited free trial subscription. Having hundreds of thousands of subscribers under such circumstances (and keeping them) represents a rather massive source of income but we cannot talk about any profit so far. "We are loss-making and will continue to be for some time, the key parameter is user recruitment and reaching a million users."
Daniel Grunt and his team invest hundreds of millions in production and purchasing. It is still true that Nova has long been a well-oiled financial machine, which generated 865 million crowns in the crisis year 2020. If you launch a new service, you cannot avoid loss. Netflix was also loss-making for a long time.
Lost momentum
Voyo is in fact re-launched. The service officially started at the turn of 2011 and 2012, i.e. in time when local media were full of Netflix but the service was not available here until four years later. The then rules of Nova, its CEO Jan Andruško and the head of the CME Group, the Romanian despotic visionary Adrian Sarbu, did not hide their big ambitions. They were talking about hundreds of thousands of subscribers during several years, about the need to attract new users and new sources of income. But the euphoria quickly faded. Sarbu left the company in 2012 and Voyo started scraping along shortly after its start.
"The service was in the doldrums until 2020 with the number of subscribers ranging between thirty and forty thousand. It also did not help that Nova was for sale for a long time as it is not a situation favourable to costly investments," explains Grunt who had left Nova before Voyo started and watched its struggle from Prima, Nova's  competitor, that acted as a more predatory fish in the domestic digital environment at that time thanks to Grunt's efforts.
With the onset of the pandemic, Voyo's outlook started improving, people were locked inside, spending much more time on the internet, which was beneficial to all streaming services. A more crucial fact was that at the end of 2020, PPF acquired CME for 50 billion crowns with a clear goal - keeping up with the trends in consuming content and using (and capitalising on) synergies of its telecommunication business - represented by the operator O2 and the infrastructure firm Cetin in the Czech Republic - and its media business, i.e. Nova.
"When I took the office last year, Voyo was basically a black box. We had minimum data, nearly no analyses were made as to where our users were, what their behaviour was, why they were leaving,"
recapitulates Grunt, adding that they are far from finishing the introduction of consistent work with data but that they have moved forward substantially. "We have a much better understanding of the path and behaviour of our users, we are able to compare them with each other. The service environment has changed markedly, we had to provide technological reinforcement to withstand the onslaught of hundreds of thousands of users."
These are the necessary preconditions for Voyo to succeed. But what is the driver of the meteoric rise of 300 thousand users in a year? We have to point out that there has long been both Netflix and HBO GO (which will turn into HBO Max) on the Czech market and Česká televize has been very active on the internet. There are two explanations: the original content and, predominantly, Nova's power.
"It is no point deluding oneself. Voyo's success clearly demonstrates how effective TV advertising is. It is still the most effective way to achieve mass brand awareness and launch a new product in the market for the broad public,"
says Daniel Grunt, shrugging his shoulders. In other words, in the last year Nova has flooded its viewers with a promotional campaign and, with a bit of exaggeration, it can be said that it has forced Voyo on them. "TV was our bulldozer, it would not be possible so fast without it," admits Grunt.
Be more sexy
It is rather ironic that a massive campaign on Nova caused Voyo's restart because there is a plan to partly separate the two brands in future and emancipate the online portal. It is intended to be less connected with the large commercial TV that historically has been perceived as a less reputable popular TV station, especially in the more educated and active part of population living in large cities. Daniel Grunt describes it on an example: "There are many people who watch Nova but might not admit it in public."
Last spring, Grunt and his colleagues commissioned a survey on streaming service awareness. They were not delighted with the results. Voyo lagged significantly behind Netflix, which was mentioned by one in three respondents while only about one in ten referred to Nova's video library. In the autumn, the results levelled off. "The current unaided brand awareness of Voyo and Netlix is 47 percent and HBO GO 21 percent. It is a very respectable result."
Does the market situation correspond to this? Yes and no, thinks Grunt. Netflix and HBO do not disclose the number of their subscribers in individual countries, so we can only work with estimates. According to the data of the Czech Statistical Office, 15% of the population aged 16+ subscribe to some form of video service, which is about 1.3 million people. In Nova, they monitor their competitors carefully and their expert analyses show that Netflix is number one on the Czech and Slovak market, Voyo is number two and HBO GO is close behind winning a bronze. In aggregate, that would more or less correspond to the figures published by statisticians last autumn.
Does Nova, or Voyo, have the ambition to edge Netflix out? "It is not the main goal. We are not going head-to-head against Netflix. We want to be complementary to it. We assume that in future, households will regularly subscribe to three services and we want to be one of them automatically."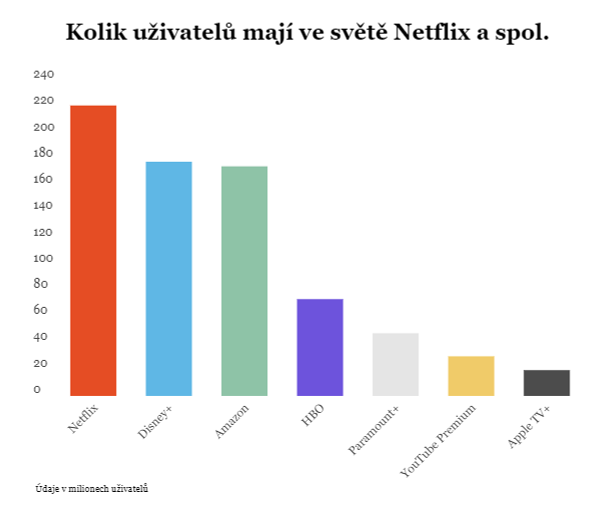 Users of streaming services in the world
The particularity of the Czech and Slovak audience - its love for dubbing - plays into Grunt's hands. While in Scandinavia all are fluent in English and most other minor markets such as the Balkans put up with subtitles, people here have historically become accustomed to and require dubbing. "Everything is dubbed on Voyo. Subtitles and English will be coming in the next few weeks," says Daniel Grunt whose office in Barrandov where Nova is seated is decorated with figurines of comic book heroes - both those from Marvel and DC to be politically correct.
According to the manager of CME, Czech and Slovak languages combined with viewers' general need (apparent all around the world) to watch famous local faces, local scenery and local context on the screen are good prerequisites for Voyo to withstand the pressure from Netflix or Disney+ that is coming to the Czech Republic in the summer. "In Germany, France or UK - in fact in most markets - the cards are dealt and there are very few places where local players have a chance to score. For example, in Scandinavia such a local player is Viaplay and I wish it were us in our part of Central and Eastern Europe," explains Grunt. He admits that he would not be against repeating the historic success achieved in another sector by Seznam, the Czech search engine, which is one of few companies across the globe that are able to compete with Google on the domestic market.
To be successful, you cannot just rely on massive TV advertising and advantages such as that viewers can watch their favourite shows earlier on the internet. This must go hand in hand with a tailored content offer for users. The mere fact that last year at the turn of summer and autumn Ordinace v růžové zahradě switched to Voyo caused a big increase in the number of users. At the end of the year, the crime drama series Případ Roubal was added, and up to twelve original web series are set to premiere this year, including a dramatisation of the life of the singer Iveta Bartošová. There will be 23 premieres next year, and over 30 are expected the year after.
What Voyo is doing is following the path tested by Netflix, i.e. a combination of a large supply of standard content supplemented by top class shows, the so called quality TV. After all, if there was one thing that Netflix did to draw attention to itself in markets where it was not yet active, it was the original series House of Cards. "If you look at the average production costs of a regular series to be aired on Nova and compare it to the one to appear on Voyo, there is a dramatic difference. The series for Voyo is substantially more expensive," says Grunt.
Lesson learnt from Seznam
It is logical that if a video platform fails to offer any value added, it will have hard times to attract new users in future, the more so because viewers are spoilt by the severe competition in streaming services. Multinational brands such as Netflix, Amazon, Apple, HBO or Disney invest tens of billions of dollars a year to produce new series. Netflix has just announced to release a new big-budget film every week. "That is something we cannot compete with despite of having hundreds of millions of crowns a year allocated to production and investments. Which means that it will be a lot by Czech standards but not much compared to the US giants," says Daniel Grunt with a smile.
He also adds that Voyo targets different clients. While younger generation prefers foreign services, he and his colleagues focus on people over 30 years who are more loyal. And what is more important, there are (and, given the ageing of population, will continue to be) more and more of them. "Families and people aged 30-45 are the core of our users today. On average, they spend more than 12 hours a week with us."
In the tug-of-war with Netflix and other services, Grunt is troubled by something else, namely the local film market. Foreign productions, including Hollywood studios, like the Czech Republic, which is also because of film incentives. They spend billions of crowns a year on filming here. However, this creates more tension on the already overheated labour market. Increasingly intense battles are fought for talents and skilful craftsmen and creators. "This is something we feel very strongly. Luckily, as Voyo changes and we keep adjusting its image, the creators who did not cooperate with us or left us in the past start working with us. They feel that they will be able to make quality content with us," says Grunt.
We do not have to think too long to give a specific example. The famous creative producer Michal Reitler moved from Česká televize, which is headquartered on the opposite bank of Vltava in Kavčí Hory, to Nova for this reason. Michal Reitler participated in the much appreciated projects such as Dukla 61, Metanol or the series Most! and Případy prvního oddělení. It is amusing that Reitler was working in Nova in the past, same as Grunt, and was headhunted for Česká televize by its head - and the former head of Nova - Petr Dvořák.
What is currently changing under Daniel Grunt's control also has an international dimension. CME has TV companies not only in the Czech Republic and Slovakia, Voyo's campaign is running also in Bulgaria, Romania and Slovenia. CME and its owners from PPF want to replicate it in all of these countries.
Daniel Grunt as the Chief Digital Officer of CME will be in charge of the project again. "Let us say that we have tested what works on the local market. Now, we will pass it on with slight adjustments and with respect to local culture. So far I have spent a lot of time and attention on Voyo here, but in the spring we will move to Romania and at the turn of the year we will start the transformation in Bulgaria, which is the least developed in terms of streaming."
Was the Czech Republic a kind of laboratory? "Yeah, you could say that. And at least for now it seems to me that we have a recipe for playing a tight game with the big boys and girls from America in the markets where we operate."
Source:
cc.cz