On the occasion of World Television Day, the ATO has published key TV viewing trends in the Czech Republic.
The TV viewership curve over the last ten years shows an increase in the last two so-called covid years, when TV was the most sought after source of information and entertainment. The average Czech over the age of 15 watches almost 4 hours of television a day.
"Looking at the time series, it is evident that time spent with TV clearly increased during the lockdown period in 2020 and the trend continues this year," said the domestic industry's Association of Television Organisations (ATO) on the occasion of World Television Day, which falls on 21 November.
The data also show that in the first ten months of 2021, over 6.8 million viewers (the average number of viewers who watched at least three minutes of continuous TV viewing per day) in the general target group 4+ watched TV every day.
Viewers in the 25-34 and 35-44 age groups spent an average of more than 2 to 3 hours a day in front of the TV, according to the October data. "On the one hand, the increase in viewing in the autumn may be associated with shorter days or cooler weather, but 2020 at its extremes is clearly related to the pandemic (3h 20 min for CS 35-44). This year is not as extreme, yet for the aforementioned target group, viewership exceeded three hours," the ATO further explains.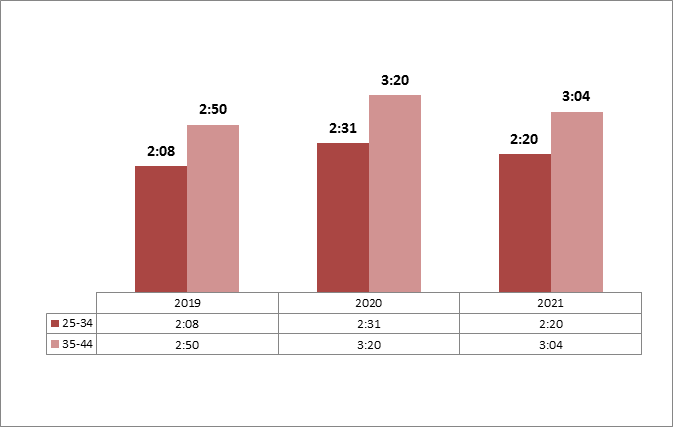 The peoplemetric data shows that compared to the pre-covideo period (2019), the average viewership of the main newscast increased by +4% last year and by +6% this year to a total of 2.6 million viewers every day in the 15+ target group.
"Time spent watching TV increased significantly during the covid restrictions, most notably during the lockdown period. But the pandemic was not the only source of this increase. It may have contributed significantly, but it is certainly not the only factor. The increase in total TV viewing time is due, for example, to the increasing fragmentation of the market with better targeting of individual target groups, new genre stations are emerging, the overall programming offer is richer, and the increasingly popular option of delayed viewing via HbbTV or IPTV is also a significant benefit," said Vlasta Roškotová, ATO CEO.
Continuous Research data (specifically from the latest available research wave July-September 2021) shows that the majority (45%) of households use the DVB-T2 digital terrestrial signal for TV reception, 19.7% watch via satellite, 13.4% are cable-equipped and almost 22% of households watch TV via the internet (IPTV). 83% of Czech households have an internet connection.
Source:
mediaguru.cz