Technological developments in the world of media affect viewing. A new study commissioned by Screenforce provides evidence of new patterns of video consumption among the expanded population.
In order to examine the increasingly complex world of moving images, Screenforce is playing with an "individual user situation". A study called "Mapping the Moods", conducted by the market research institute eye square, highlights the relevance of context in media usage.
Screenforce explains the research task assignment by the fact that context is a hot topic in media agencies. "For media planners it is increasingly important to understand how moving images are used in order to better target advertising and optimise its effect," says Screenforce, promising nothing less than "the first comprehensive survey of the video environment in Germany".
"Mapping the Moods" is a follow-up to last year's "Track the Success" study in which Screenforce aimed at providing evidence that the situation of perception has a crucial impact on how advertisements are perceived and what effect they have. Scientists from eye square have identified 10 typical usage patterns (Moods) that go far beyond time of day and genre and include psychological components of video viewing.
What video offer is used, by whom, when, how, why and with whom, in what mood the viewer is and what they are doing in parallel - these were the questions of a detailed research diary (Module 1), which was combined with a representative online survey conducted on its basis (Module 2). The combination of time of day, genre, concentration and motive resulted in 10 distinctive patterns of video usage:


DELIGHTFUL RELAXATION: making oneself comfortable and calmly watching video in order to relax


Live experience: sitting tensely in front of the TV and experiencing the thrill of live broadcasting


GETTING INFORMED: keeping up to date with current issues


occupying oneself/getTING things done: spending time or making one's work/task more enjoyable


Routine/TRADItion: watching the same type of show regularly on the same day and at the same time


personal interest: watching something personally appealing and interesting


letting oneself be affected: just switching off after an effort


forgetting about everyday worries: forgetting everyday worries by distracting oneself with video content


Entertainment: letting the content entertain you and enjoying the happy mood


programme switching/GETTING INTERESTED: going through video content one by one in search of something suitable


Key findings of the study:
Most audiences experience these moods (Moods) on a regular basis and thus they are all equally relevant.


Overall, the study shows that video consumption can be very well described by these 10 Moods, especially with regard to the attention and emotional state of the user.


Watching television, the viewer often experienced all the Moods.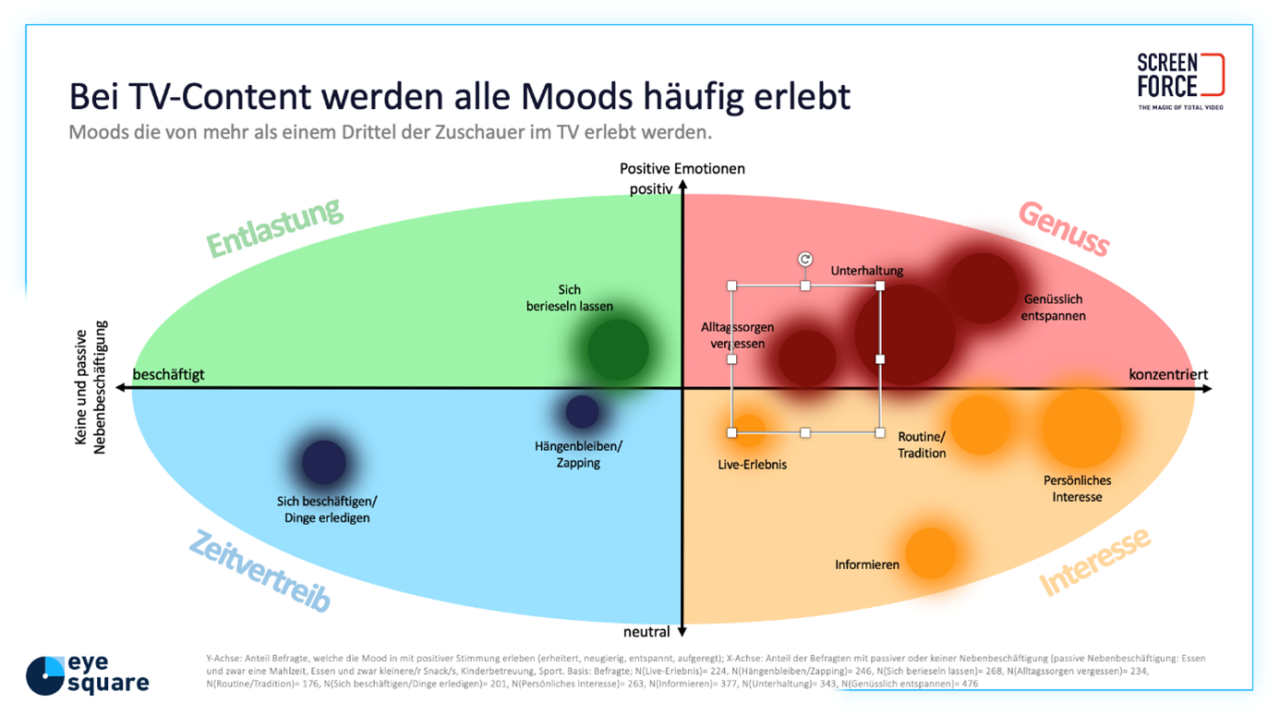 Moods experienced by more than a third of (linear/classic) TV viewers:


Relief - Pleasure


Entertainment - Interest


A SVOD (Subscription-Video-on-Demand) service was relevant just to the Moods of "Entertainment", "Delightful relaxation" and "Forgetting about everyday worries". This covers a considerably smaller spectrum of video viewing.
In general, the study confirms that the environment is favourable for advertising: video is watched largely in a good mood. The key message of the study is that namely live TV broadcasting successfully covers the motives for video usage; SVOD services are less successful, which has consequences for optimised ad planning.
Malte Hildebrandt, CEO of Screenforce, comments: "For media planners it is increasingly important to understand how viewers consume and use video in order to target advertising and optimise its effect more precisely." Considering these usage patterns thus may be a useful complement to media planning.
In addition, the authors of the study emphasise that the data collected are also useful for TV and streaming service providers. They will help them improve the current video offering, offer content in the right places and increase viewer satisfaction.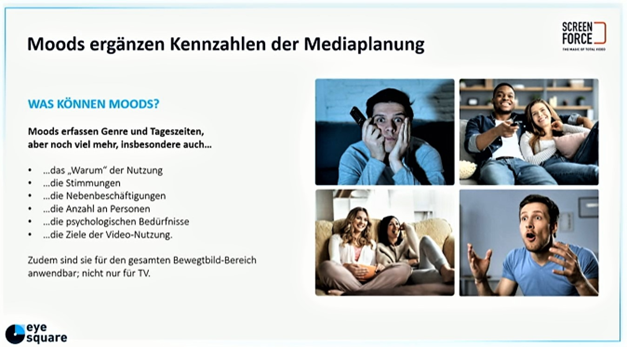 What can Moods do?
Moods include not only genres but also time of day and much more, predominantly the following:


Why we are consuming TV and video content


The moods


Secondary activities


Number of people


Psychological needs


Objectives of watching TV and video


Moods are applied to all video content, they are not restricted to TV.
In the following year, a follow-up study will explore the connection between creating spots, the Moods and ad effects.
Additional research will explore the issue of psychological function of these usage patterns. The results are expected to be published in September 2022. Screenforce's research will further focus on the impact of advertising in order to gain new insights into which spots have a particularly strong impact in which moods.
Information on the study and a presentation is available at 
Screenforce.de
.