The European digital video advertising market is currently growing rapidly and the volume of advertising investment for linear TV and non-linear TV is converging in Europe, an IAB and PubMatic report has found.
More than a third of total ad investment (36%) directed to digital is intented for digital video advertising (instream, outstream, in-banner video) viewed on any device other than TV. So-called non-linear video advertising (addressable TV, OTT, advertising on connected TVs - CTV) receives only slightly less advertising investment (23%) than traditional linear TV (29%).
This is according to a new IAB Europe and PubMatic report on the state of digital video advertising in Europe. They found it through an online survey of advertisers and agencies. Some 140 respondents took part in the survey between December 2021 and February 2022.
According to the IAB report, the convergence of digital video (non-linear video) and linear TV budgets may be related to the fact that marketers currently view non-linear TV as a means of extending the reach of linear TV campaigns. In the survey, 54% of respondents cited this factor as a reason for the growing investment in online video advertising. At the same time, digital video is seen as a brand-building tool.
On the other hand, marketers cite the lack of cross measurement that accounts for advertising impact across all screens as the biggest barrier to investing in digital video.
Representation of advertising investment (%) per channel, source: IAB Europe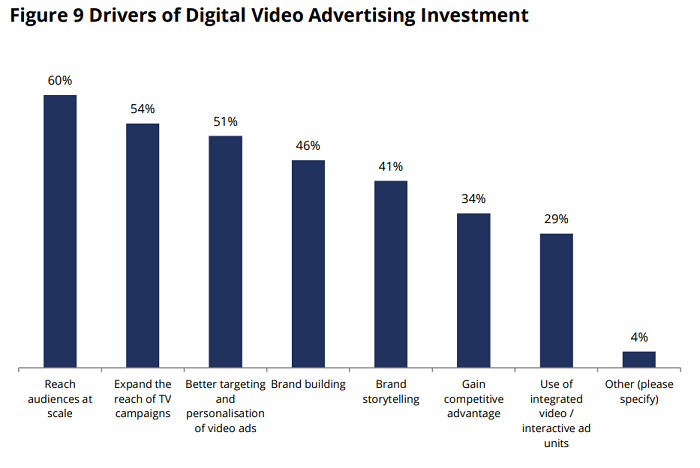 Factors driving growth in digital video advertising investment, source: IAB Europe
Overall, the report concludes that the European digital video advertising market is now growing rapidly, accounting for almost 40% of all online display advertising investment in Europe, according to IAB research.
This trend is expected to continue in the coming years thanks to improvements in video quality. The research showed that respondents are optimistic about the trajectory of future advertising investment in digital video. Ninety-three percent believe that budgets devoted to digital video advertising will increase over the next 12 months. Nearly half believe it will increase by 11%-30%, while 17% estimate it will increase by as much as 31%-50%.
However, the report notes that the market is highly fragmented, due to various factors ranging from media behaviour, regulations or the way media is traded in different European locations. In addition, as with other forms of digital advertising, measuring audiences across screens and touchpoints is an increasing challenge as the number of platforms and services increases, but on the other hand, regulation is limiting cookies. This is taking its toll, according to the IAB.
The full report is available
here
.
Source:
mediaguru.cz