In just a few day, nearly 100 million Americans will be in front of their TV screens. The Super Bowl finals are just around the corner. However, it's not a purely sporting event, as it might seem. The eyes of marketing experts from all over the world will be on the State Farm Stadium in Glendale, Arizona, watching closely the commercials that are regularly broadcast during half-time. It's practically the most expensive advertising slot ever, and it's here that marketing trends are set for years to come. How is it possible that the Super Bowl is such a phenomenon? And how does it help form the current shape of what we consider to be truly quality television advertising?
THE PURE ESSENCE OF AMERICA
For Czechs, the whole concept of the Super Bowl may seem almost exotic, as we are not exactly used to such sporting events in this country. In a local context, the finals of the Czech First League, the top Czech competition, should function exactly like the Super Bowl. However, nothing like this is happening, we do not celebrate this event so massively. So how is the Super Bowl different? The answer may lie in the fact that the playoffs themselves are much less related to American football than it might seem to an outsider at first glance.
The NFL's final game does frame the whole Super Bowl madness nicely, but let's make no mistake. It's certainly not purely about American football. The Super Bowl is the show, the social event that all of America waits all year for. It's an occasion where families spread across the US come together just to watch this one pivotal game. The Super Bowl is, at its core, a celebration of American history, pop culture and a way of life in general. It has a very strong patriotic feel, which is perhaps why Czechs don't enjoy events like this as much. The Super Bowl and everything that surrounds it is pure America through and through.
The first Super Bowl was televised in 1967, and since then it has enjoyed a popularity that no other format in the US can match. When the Super Bowl is on, all the competing TV stations put reruns of their shows on the air rather than putting, say, a new episode of a popular reality show or popular TV series into the viewer's competition, because they can be expected to struggle badly. The Super Bowl is classically one of the most watched sports broadcasts in the world. In the football world, it usually trails only the Champions League, which draws viewership from all corners of the world. The 2010 Super Bowl even made TV history - it was the most-watched programme ever in the USA. Statistics suggest that the Super Bowl usually attracts a staggering 90 million viewers to TV screens.
Video: Cultural Phenomenon: Why are Super Bowl ads so popular?
By its very nature, the Super Bowl is considered something of an unofficial national holiday. The accompanying celebrations and house parties require a lot of organization, which primarily benefits retail chains that sell food. Indeed, Americans are willing to spend exorbitant sums on essential equipment for the occasion, leaving more than $50 million at Walmarts and other stores each year. And although logically most of the airtime is devoted to the game itself, an equally important aspect is the half-time break, during which the biggest stars of American show business usually perform. A Super Bowl halftime performance is essentially an opportunity to confirm that a particular performer is considered a true megastar in their field.
However, this intermission is also a showcase for the NFL's advertisers and sponsors, who are willing to pay significant sums for the most exposed advertising opportunity available on the market. Reaching 90 million viewers is the dream of every organization and company, but only the truly most nimble can afford to do so. Since their presentation will be seen by all of America, there's not much room for mistakes.
Especially in recent years, advertisers have been competing in even more categories - especially in the area of digital marketing innovations. Given that these often include cryptocurrency exchanges, technology companies and similarly focused entities, it is logical that the advertisements presented do not remain in the grip of classic linearity. Last year's edition was a beautiful example of this. For one thing, Coinbase incorporated a unique QR code into its ad that redirected everyone who scanned it to the company's website, where they could enter a contest to win three million dollars. Coinbase announced after the game that 17 million viewers scanned the QR code during the one-minute spot. A demonstration of the use of augmented reality in marketing also caught attention. Pepsi Co. with tech companies Happy Giant and VRM Aircards offered viewers the opportunity to join the halftime concert and experience it almost firsthand from the comfort of their living room. This year we can certainly expect some other similar gadgets.
Video: Pepsi Super Bowl Halftime Show (2022)
Superbowl advertising has long since become a category sui generis, forcing advertisers to pull out all their aces and put all their efforts toward airing something unique, novel, and massive. What do companies hope to get out of this?
ALL IN ON BRAND BUILDING
The price of ad space on Super Bowl broadcasts naturally evolves with time. When the broadcasts started in 1966, advertisers paid an average of $37,000 for 30 seconds of airtime. Thus, for a relatively small amount, his message reached some 25 million viewers. But, of course, broadcasters and the NFL soon realized what a gem they had at their disposal, and the price of broadcast space has been going up steeply ever since. And that trend doesn't seem likely to stop or stagnate anytime soon. In 1994, a half-minute spot was already worth over a million dollars. In 1999 it was two million, in 2010 three. And today? We're already reliably above the five million mark.
But Superbowl campaigns have a life of their own outside of their own sports coverage. Working appropriately with social media and other channels is an important part of a successful mix. De facto, the superbowl marketing campaign itself is supported by a separate marketing campaign on top of that, which actively takes place before, during and after the game. Analysts estimate that, on average, companies will spend an additional 80% to 100% for this marketing support relative to the budget directly dedicated to the Super Bowl.
Yet there is a very lively debate about the effect of Super Bowl halftime ads in the longer term. In her expert research, Linli Xu, who teaches at the University of Minnesota, for example, addresses these questions. "Superbowl ads generally have an effect in the sense that the brands advertising get talked about more. But this potential tends to be more short-term. But if a brand wants to stir up the public space, the Super Bowl is an ideal opportunity to do so," she comments on one of the findings of his research. According to her, advertising brands are seeing an increased presence in offline and online conversations - on game day, brands are being talked about 68% more intensely in the online space than normal. A week after the match, conversations still maintain a boosted intensity of 22%. And brands maintain this trend for more or less the entire superbowl month, with intensity logically diminishing over time but never dropping below 16%.
Video: Super Bowl ads costs
Is this a relevant and profitable investment? "It depends on what strategy companies are pursuing. Research data tells us that a presence in the Super Bowl ad zone does not lead to an immediate boost in sales. But the boom in online search cannot be denied or disputed. That's why space on the Super Bowl makes sense, especially if you're trying to build a brand and want to ingrain it in the minds of as many people as possible. Another valid strategy is that by having a presence at the Super Bowl, you are greatly strengthening your relationship with your current customers," explains Xu.
You could say that advertisers at the Super Bowl are essentially forming a kind of elite club to which only the most successful leaders of corporate America are invited. That's why the following selection of some memorable Super Bowl commercials can never be complete. It is, in fact, an almost inexhaustible pool of creativity from the best marketing minds around the world. However, none of the following ads can be denied to have captivated the masses with their originality and message. And in the anxious anticipation of what the Super Bowl has in store for viewers this year, it's worth reminding ourselves of them.
Wendy's – Where's the Beef? (1984)
Fast food chain Wendy's decided in 1984 to poke its competitors and contribute to the boiling cauldron of the never-ending fast food wars. Even then, it was clear that the marketing of these chains often flattered their products. The size of the meat patties in the burgers may seem like a trivial matter at first glance, but on this basis, more than one "beef" was created. In the commercial, we see three grandmothers gushing over a fluffy, large burger bun, only to be horrified that there is virtually no meat in it. Which is something Wendy's is not about to let happen. The ad campaign is clearly aimed at the chain's biggest competitors, Burger King and McDonald's. The catchphrase "Where's the Beef?" however, has become humanised after the half-minute spot aired and has become a traditional part of the American lexicon. And because of its universal nature, it also finds use from time to time in political debates. Walter Mondale, a giant of American television journalism, would definitely agree.
Video: Wendy's – Where's the Beef? (1984)
Diet Pepsi – Wise Guy (1990)
The phenomenon of Super Bowl commercials has always carried the stamp of a certain prestige. Because of their massive viewership and their importance to the brands themselves, who spare no expense in producing them. Therefore, it has always been a category that attracts all kinds of celebrities and personalities of American showbiz. As early as 1990, a commercial for Diet Pepsi featuring legendary blind pianist Ray Charles was aired at the Super Bowl. He first praises his favourite soft drink, which he believes is the only one that's real. But then comes a plot twist when a crew member swaps his Diet Pepsi for a Diet Coke. They say that blind people have all their other senses very sharpened - which Ray confirms unerringly, as he realises almost immediately that he's been duped by someone. Fortunately, a can of Diet Pepsi is not far away, so he can immediately fix his taste with the only real one. The simple structure, the witty twist and the huge charisma of the music legend make the commercial one of the best the Super Bowl has ever produced.
Video: Diet Pepsi – Wise Guy (1990)
Budweiser – Frogs (1995)
Three singing frogs might not be what you'd associate with a beer commercial at first. Yet the Budweiser brewery chose this trio as its mascots and the first inhabitants of the famous swamp, which - as far as its inhabitants go - grew for years afterwards. The very first of these commercials is considered one of the most legendary in Super Bowl history, largely because of its witty punchline and simple narrative. Essentially, we watch three frogs - named Bud, Weis and Er - spouting their names. At first, they're not very synchronized, but that gets fixed by the end of the spot, resulting in the essential "Budweiser" message. At the same time, we discover that the frogs are sitting in front of a bar with a neon-lit sign for this particular brand of popular beer. The brewery chose the now popular Gore Verbinski, who would become famous a few years later with the Pirates of the Caribbean adventure series, as the director. He was obviously always close to the alcohol theme. That being said, the swamp of Bud, Weis and Er gained more and more inhabitants over time and became a symbol inherently associated with Budweiser even outside of the American football holiday.
Video: Budweiser – Frogs (1995)
Monster.com – When I Grow Up (1999)
And now on a more serious note, together with the job portal Monster.com. The commercial plays with the idea of how our dreams of future careers as children are worlds apart from the harsh reality. Probably few of us thought of plucking a bright career in middle management or cooking and fetching coffee for our bosses all day long. Monster.com is essentially trying to get viewers to think about themselves and the trajectory their work lives are taking. It achieves this by clever contrast - namely, by reversing the logic, with the kids talking about these exact improbable dreams with a straight face. Although a common leitmotif of most Super Bowl spots is to entertain or encourage patriotic sentiment, this unique ad turns its attention to each viewer as a distinct entity. It is considered one of the most humble in the history of Super Bowl broadcasting, but it is because of this that it has made an indelible mark on history. What's unique about this is that Monster.com itself isn't exactly the most typical example of a Super Bowl advertiser. However, it worked to great effect and almost certainly made many Americans rethink their work preferences.
Video: Monster.com – When I Grow Up (1999)
Reebok – Terry Tate, Office Linebacker (2003)
In 2003, law firm Felcher & Sons was looking for ways to increase the productivity of its office staff. The solution was offered by athletic shoe manufacturer Reebok, which sent a highly productive employee, Terry Tate, to the quiet office. And the employees quickly learned that the nickname Terrible was not associated with him for nothing. This is, of course, a fictional scenario that Reebok came up with as part of its Super Bowl ad campaign. But Terry Tate quickly became an icon. The lunatic who leaps at office staff from behind cupboards and always has a completely inadequate pep talk to back him up simply entertained people, which is why the company embellished his character in the years to come. Even the casting was a spot tailor-made for the Super Bowl premiere. Tate was played by retired American football player and professional wrestler Lester Speight. And in case you were wondering, the investment in Tate paid off for his employers. So much so, in fact, that labor productivity went up 46% and management now regrets that there aren't more Terrys.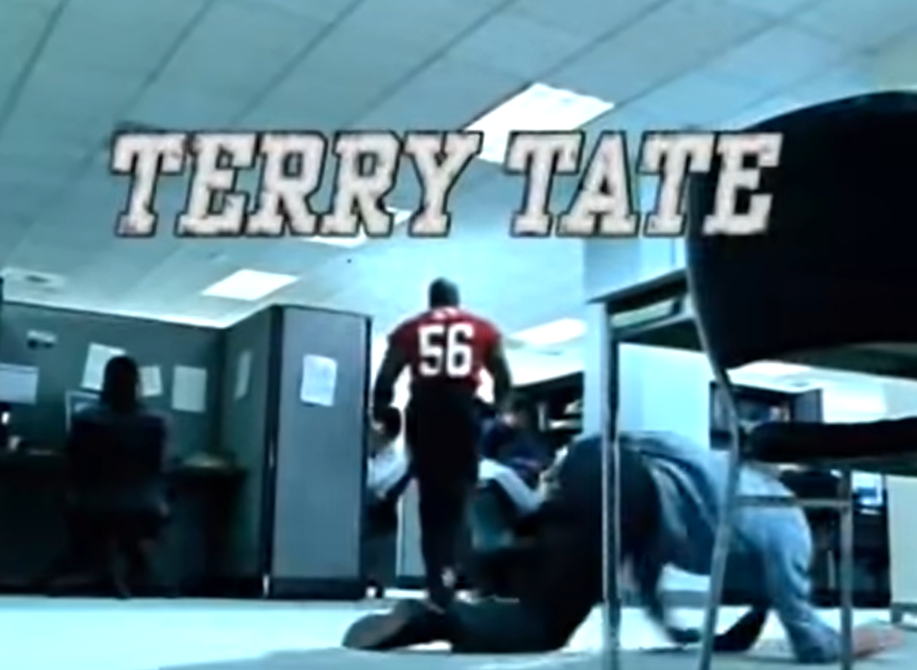 Video: Reebok – Terry Tate, Office Linebacker (2003)
Volkswagen – The Force (2011)
2 million views in one day - that's the reward for managing to hilariously fit your ad into one of the world's most famous pop culture franchises. Volkswagen, the automaker, decided to capitalize on the momentum that accompanied the Star Wars relaunch after the studio was bought out by studio giant Disney's Lucas Arts and sent its own little Darth Vader into battle, struggling to use the Force. Both the electronic hand dryer and the family dog prove to be very tough opponents with enough mental toughness to withstand the eponymous Force. But the boost to the growing Sith Lord's self-confidence comes from a Volkswagen Passat... and, of course, a dad who certainly doesn't underestimate the power of remote control. This spot perfectly encapsulates the nature of the Super Bowl as a pop culture event that will take over the US for a time, engulfing even those who don't normally care about American football. Moreover, John Williams' The Imperial March is a safe bet, as you know exactly where the wind is blowing from with the first notes at the beginning of the commercial. Iconic, novel, funny, highly viral and actually kind of touching. Just the way Super Bowl viewers like it.
Video: Volkswagen – The Force (2011)
Chrysler – It's Halftime in America (2012)
The Super Bowl is an unquestionable part of American cultural heritage. It is only logical, therefore, that Americans are duly proud of it, and feelings of patriotism are practically umbilical corded into the DNA of this sporting event. If there is one famous US personality who literally oozes American identity, it is actor and director Clint Eastwood. He tackles classically American themes in his films, combining them with iconic scenery and strongly patriotic narratives. It's no wonder, then, that in 2012, the carmaker Chrysler chose him as the protagonist of its somewhat different Super Bowl commercial. This one was specific in its length alone - the spot, at over two minutes, was the longest ever in Super Bowl history, and the NFL had to negotiate an exemption from the 90-second limit on all broadcast commercials because of it. Chrysler used the spot to respond to the difficult life situation of many ordinary Americans who were struggling with the challenges of the ongoing economic crisis, but Eastwood's earnest clip reminds us of all that the US has had to deal with in its history and that it has emerged from each crisis as a stronger society than before. It's two minutes full of motivation and nostalgia laced with sports terminology. And as the crisis, like the Super Bowl, will inevitably move into the second half, in which we will already see the light at the end of the tunnel, it is important not to give up and fight.
Video: Chrysler – It's Halftime in America (2012)
NFL – Touchdown Celebrations to Come (2017)
No ranking of Super Bowl commercials would be complete without at least one sting in the fire from the NFL itself. The organisation that covers all the competitions in American football may have a much easier access to the airwaves than traditional commercial advertisers, but that doesn't mean it can afford to air just anything. Moreover, the NFL has long been plagued by the unflattering moniker of the No Fun League, due in part to some conservative rules that were still in effect in 2017. A typical example was the ban on celebrating masterfully executed touchdowns during the game, which took a bit of a toll on the authenticity of the players and the games themselves. That's why the league decided to rescind this ossified rule after a decade, and all of America anxiously awaited to see what all sorts of creations they would see from the players. To make the wait go by a little faster, the NFL offered its own vision of how it envisions it. It called on some of its biggest stars, quarterback Eli Manning and Odell Beckham, Jr., both of the New York Giants. In their rendition, then, the celebration of a quality touchdown takes the form of a literally wicked dance that would put the original performer, Patrick Swayze, to shame. And although the New York Giants didn't make it to the Super Bowl in 2017, their players received a rather unconventional standing ovation from both New England Patriots and Philadelphia Eagles fans. The love for the sport simply bridged the trenches in this case, even between implacable rivals.
Video: NFL – Touchdown Celebrations to Come (2017)
Amazon – Alexa Loses Her Voice (2018)
Multibillionaire Jeff Bezos' most terrifying nightmare? A scenario in which his Amazon's crown jewel - artificial intelligence Alexa - loses her iconic voice. This Super Bowl spot is a beautiful example of how to make the most of 90 seconds of footage and populate it with big names across the cultural landscape. In fact, the cure for Alexa's voicelessness is to hire these celebrities to interact with AI users. Artists, after all, are very specific individuals with a whole host of their own unwavering opinions and beliefs. That's why it's not always pleasant to get cooking advice from Gordon Ramsay, to rely on Cardi B for music, or to rely on Anthony Hopkins for practically anything. As an experiment, it's certainly good, however, everyone, led by Bezos and the team at Amazon, was probably relieved when Alexa finally found her voice again and got her users' lives back on track.
Video: Amazon – Alexa Loses Her Voice (2018)
Doritos – Cool Ranch Dance (2020)
Doritos are worth dying for. Or at the very least, have a gunfight to the death over it. This relatively new commercial pits two legends against each other that the viewer wouldn't exactly expect. On one hand, the prototype of the American cowboy Sam Elliot, on the other, rapper Lil Nas X, who is definitely miles away from the western genre. But the tension quickly turns into a dance battle, a category where Sam Elliot can't be expected to have the upper hand. Lil Nas X has his moves, while Sam Elliot has... his iconic walrus moustache. This hilarious battle over Doritos certainly doesn't cease to amuse or amaze, and although the young rapper takes the win in the end, old pard Elliot certainly didn't let the shame of it get to him. It's one of the strangest combinations in Super Bowl history, but one that took an established cliché and took a completely different take on it. The result is brilliant, as evidenced by the rave reviews Doritos received for the idea.
Video: Doritos – Cool Ranch Dance (2020)
Who will take the imaginary reins this year? We'll find out in just a few days. Still, we can expect the halftime commercial break to once again be full of stars, marketing creativity and brands trying to outdo themselves. It's no exaggeration to say that this commercial break is as closely watched a contest as the one that will take place in the stadium.