New data from the Czech Statistical Office (CSÚ) for 2022 confirms the rapid growth of pay-per-view videos and the proliferation of smart TVs in Czech households.
Watching paid videos on the internet (e.g. Netflix, HBO Max, Voyo) is growing rapidly in the Czech Republic. Last year, 22% of people over 16 did so. If we calculate the number of 8.7 million people over the age of 16 (source: CSO), almost 2 million people (1.9 million) watch paid videos. Over the last three years, the increase in pay video viewing is 19 percentage points. It has increased by almost 50% compared to 2021 (15% in 2021). This is shown in the CSO publication Information Society in Numbers 2023, released on Wednesday.
In the younger age groups 16-24 and 25-34, the share of watching paid internet videos reaches 40%. Yet the Czech Republic remains below the European Union average, which is almost double at 42%.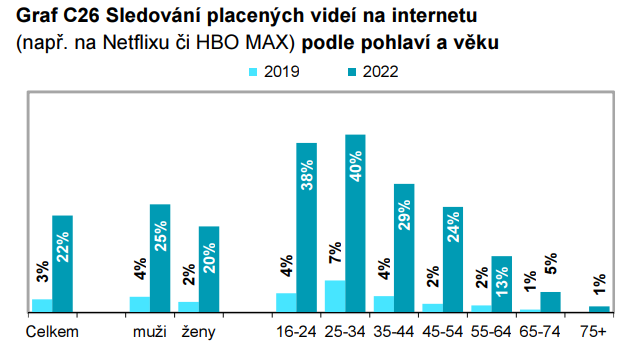 Source: ČSÚTotal online video viewing (free and paid) was 66% last year, three percentage points higher than in 2021.
Smart TV (a TV with the ability to connect to the internet) was available to an average of 43.8% of households last year, up 11 percentage points year-on-year (i.e. about a one-third increase). Smart TVs are least represented in households with people aged 65 and over (11%), while they are most represented in households with children under 15 and households with no children under 40 (both around 60%).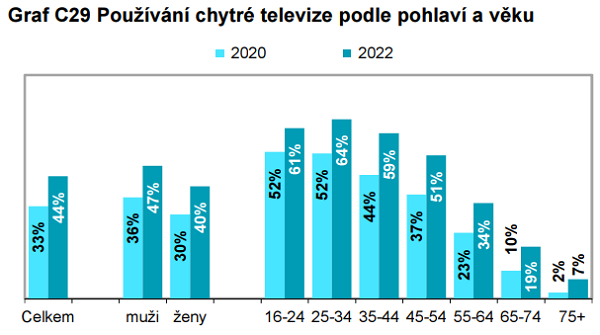 Source: ČSÚListening to music on the internet has also increased to more than half (52%) of those aged 15 and over.
Online news was watched by 78% of over 16s last year, an increase of 4 percentage points compared to 2021. 3.5% of people paid for articles online last year and 11% of people bought books online.
Almost 60% of people aged 16 and over (58.2%) used social networking sites last year. This was two percentage points higher than in 2021. 96% and 95% of the 16-24 and 25-34 age groups did so respectively. In contrast, the over 65 age group accounted for less than a fifth (18%) and the 75+ age group 5%.
In the second quarter of last year, 85% (3.9 million) of Czech households had Internet access. While families with children and young families without children were almost all connected (99.7%), only one in two of the households of seniors (people over 65) had access to the Internet. The most commonly used IT device is the mobile phone. In the Czech Republic, 99% of people over 16 years of age had one.
Source:
mediaguru.cz