Many factors influence the world of television advertising. Whether it is the evolution of society, the era, technological possibilities or the specific mentality of consumers in different countries, the human factor is also inevitable. The way in which media promotion is done is also influenced by the creators.
In a series of articles about well-known names in television advertising, we will focus on a few specific authors of successful advertising campaigns not only from abroad, but also from the Czech Republic. You will read about the people who in their own distinctive way have influenced the shape of advertising and left their mark and distinctive impression in its history.
So you can look forward not only to inspiring stories of the pioneers of good advertising, but also to practical information and instructions, or samples of the most popular and successful films. We'll discuss unconventional topics and concepts that have never been seen before in the world of sales.
Claude C. Hopkins, one of America's first advertising creators, introduced many of the pillars on which advertising is still built today. David Ogilvy is one of the most well-known legends in his field and is not called the father of advertising for nothing. He enriched not only the television production industry, but marketing strategy as a whole. Oliviero Toscani is not to be missed in this series, as his unusually bold controversy in the United Colors of Benetton ads has been clearing the waters. We will also look into the Czech Republic, where we will also find some big names in advertising.
Taking inspiration from these advertising greats can benefit anyone who's thinking about how to approach their own campaign.
CLAUDE C. HOPKINS UNDERSTOOD THAT A PERSONAL APPROACH IS THE KEY TO SUCCESS
The first television spot promoted Bulova watches. The 30-second spot aired on July 1, 1941, on New York station WNBT before the broadcast of a baseball game between the Brooklyn Dodgers and the Philadelphia Phillies. Much has happened since the days of black and white commercials and shaky cam. Let's take a look at how each of these creators influenced their era.
Claude C. Hopkins lived from 1866-1932, so he was at the birth of television itself. The most important work he wrote is Fundamentals of Modern Advertising (Scientific Advertising). Here he introduced several revolutionary ideas and approaches to television advertising, which was in its infancy. As salesmen were just getting their hands on this new technology, the images tended to be very similar, sterile and often overtly "salesy". Hopkins decided to take a more personal approach. He focused on getting to know his customers and their needs, not just the product itself. He believed that consumers perceived salespeople in a very cold and impersonal way and decided to change that.
Vide
o:
Pepsodent ad, 1957
You've just watched something legendary. This commercial by Claude C. Hopkins' Pepsodent toothpaste is the reason you brush your teeth regularly today. Don't believe it? According to surveys, only 7% of the population brushed their teeth regularly before the film was released. After it aired, that number rose to 65%.
THERE'S NOT A MARKETEER WHO DOESN'T KNOW OGILVY AND HIS TIMELESS TECHNIQUES
David Ogilvy (1911-1999) moved the world of advertising forward in a truly remarkable way, and it is not only marketing experts who still benefit from his ideas today. Even in related fields such as copywriting, he is a celebrity. One of the greatest legacies that the father of advertising gave to the world of marketing was a more holistic view of brand promotion itself. Until then, there was no such thing as branding or identity. Ogilvy wanted to achieve brand equity with customers and secure their loyalty. Among his best known works are Confessions Of An Advertising Man and Ogilvy on Advertising. Even in print advertising, he understood by then that the key to "hooking" a customer was a good headline and a photo that aroused curiosity. Instead of sterile product photography, he offered people a story.
Image: The Man in the Hathaway Shirt, 1951
Advertising for the shirt maker C.F. Hathaway wasn't particularly revolutionary at first. However, Ogilvy decided to write into the image the story of a man, an aristocrat with an interesting and exciting life. So he didn't let the fact that his model had an injured eye derail him, and made it the grosso of the campaign. He put a pirate's patch over his eye. The brand owner had an advertising budget of only $30,000. He won Ogilvy's services by promising him all future campaigns and a completely free hand.
TOSCANI WASN'T AFRAID OF CONTROVERSY AND MADE THE ITALIAN BRAND BENETTON FAMOUS
Oliviero Toscani was born in 1942 in Milan. He became famous mainly for his controversial campaigns for the Italian company Benetton between 1982 and 2000. He originally worked as a photographer, shooting for Elle, Vogue and Esquire. He was not afraid of topics such as racism, war or the death penalty. Some of the images provoked very intense reactions, because no one had ever done a similarly bold campaign before. But Toscani believed that brands should not just sell products. He believed that their role was also to demonstrate their social intelligence and empathy. Although his strategy brought him many problems and opponents, it ensured that his campaigns were very popular. Thanks to their novel approach, they went virtually viral around the world. Toscani, in short, sparked debate.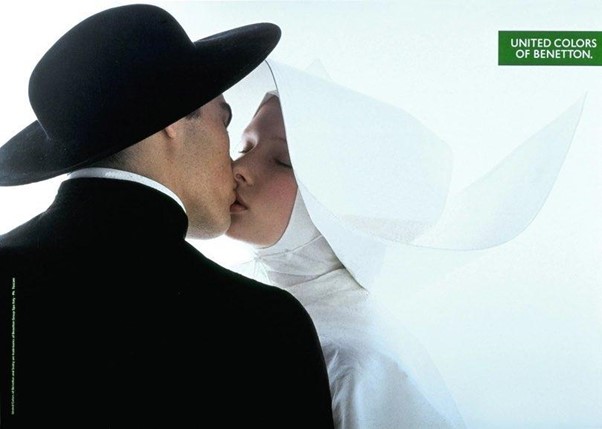 Image: Kissing-nun, 1992
WERE LIDA BAAROVÁ AND VLASTA BURIAN THE FIRST INFLUENCERS?
The development of the concept of television marketing in the Czech Republic and abroad is certainly worth comparing. Among the first Czechoslovak works, the film Ferenc a káva (Ferenc and Coffee), made in 1927, has its place. In the early days of domestic television advertising, these were rather 5 to 10 minute mini-movies. The story ended with an advertising message. While American filmmakers, for example, focused first on sales, Czechoslovak salesmen bet on the story line. Abroad, the tendency was initially to associate the product with a fictional character, while the Czechs decided to follow the path of today's influence marketing and cast popular actors of the time, such as Lída Baarová or Vlasta Burian, in their spots.
Jakub Kohák, whom we will focus on in one of the articles, is not only an actor, but also an advertising director. It is his background as an actor that gives the works he directs a specific form. He is popular among Czech viewers and his humour is popular.
BE INSPIRED, BUT THEN BET ON WHAT YOU EXCEL AT
What consumers are hungry for, how consumer thinking is evolving and what the technological possibilities of directors are. All of this determines the direction of TV advertising and current trends. Every era has a hero who came up with a new idea of how to sell better through the TV screen.What have these greats given us?


Empathize with the customer, be personal.


See the brand as a whole, give it a face that people will recognise.


Don't be afraid to bring controversial topics to light and spark debate.


Humour and familiar faces will do you a great service and much more...


Whether your campaign focuses on an unconventional concept, a strong story, simplicity or a fresh take, you always need to focus on what you excel at. You won't make a mistake if you put the script and execution in the hands of those who know how to portray the message perfectly. For it is a difficult task to attract the viewer, who is nowadays overwhelmed by the offer.