ADS ACTIVATING THE RIGHT HEMISPHERE OF THE BRAIN ARE MORE EFFECTIVE AND attract MORE ATTENTION, BUT THEY DIMINISH OVER TIME. THIS WAS one of The findings presented by ORLANDO WOOD AT THE BRAND MANAGEMENT CONFERENCE
In today's post-pandemic world of economic uncertainty, ads should be created with wit, charm and human vitality. "
In a time of increased anxiety and hostility, what could be more amazing than this
?" asked Orlando Wood, a representative of effective marketing and author of the books on marketing and advertising
Lemon
and
Look Out
, at the end of his presentation to the Prague audience. Wood presented to the local audience at last week's Brand Management Conference hosted by Blue Events.
Orlando Wood took the audience through some of his insights from his books
Lemon
and
Look Out
. In the books, he explores the way the human brain relates to the world and asks whether social and cultural changes are driven by deeper patterns that are also reflected in the structural transformation of the advertising industry. Building on the work of Les Binet and Peter Field, he sees the transformation in the decline of creativity and the rise of campaigns focused more on immediate activation and less on brand building.
Although having different functions, the left and right hemispheres of the brain do not "do different things", they "do the same things differently", pointed out Wood. In his study, he documented that the number of ads associated with the left brain hemisphere has increased over the past 10-15 years. They are characterised by flatness, a shift to materiality, simplicity, repetition, monologue and the use of adjectives instead of nouns while the right brain hemisphere is associated with ads that rely on dialogue, contextualisation, openness and playful language. Wood believes that contemporary advertising lacks humour and narrows the view of the world by being associated more often with the left brain. He therefore believes that by engaging the right hemisphere, it is possible to achieve greater amusement and evoke emotions that translate positively into advertising effectiveness. According to Wood, advertising that activates the left brain gradually ceases to work. It does not keep people's attention and they do not remember the message. Advertising that arouses emotions in the viewer is more effective than advertising that uses a more rational strategy.
The effects of emotional responses on share of voice (SOV) from System 1 research showed that joy and surprise were the most significant contributors to increasing SOV while sadness, fear and anger were at the opposite pole of this scale.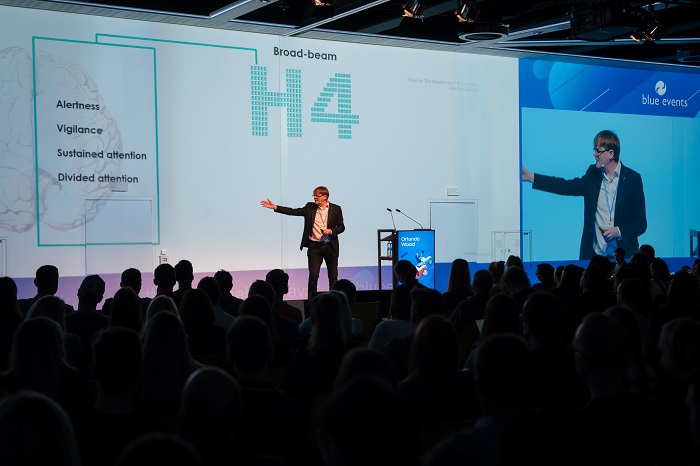 Orlando Wood, conference Brand Management
Wood stressed the need to think about how to evoke positive emotions in the viewer in today's turbulent times of fear and worry. Activation of the right brain allows emotions to pass through and engage consumers through wit and storytelling. This will also increase the likelihood of a higher level of attention to such advertising and its transfer to long-term memory. It also better aids long-term brand building in today's technologically fragmented world. "
Yet there are signs of a lack of trust and experience in developing brand-building advertising today
," pointed out Wood.
Using a parallel to the division of the cerebral hemispheres, Wood described two concepts of attention, metaphorically labelled the "broad beam"and the "narrow beam", that reflect the two ways advertising works. In the brain, broad-beam attention is first and is associated with the right hemisphere, which transmits information to the left hemisphere. Advertisers need to focus their efforts on getting broad attention for brand building (for long-term effect); narrow-beam attention is inherent in targeted activation advertising and thus direct effect. Wood shows that to achieve effective brand building based on prominence and trust we must capture the "broad beam" attention of a large audience.
At the Brand Management Conference, Gregg Harper, creative director at Wunderman Thompson, pondered whether creativity is dead when everyone is inherently creative. As new technological advances came to market, questions were always raised as to whether new technology was the grave digger of creativity, Harper recalled. Although for some innovations, such as the Internet, it was not always obvious at first how they could help creativity. They eventually proved to be justifiable for creativity. Online viral videos my serve as an example. Even today, some technological innovations seemingly do not concern advertising. But research so far shows that augmented reality (AR), for example, increases brand awareness and most consumers are interested in it. "
Is creativity dead? Probably not, it has been democratised and is more accessible than ever before. And it will be around longer than any of us
," concluded Gregg Harper.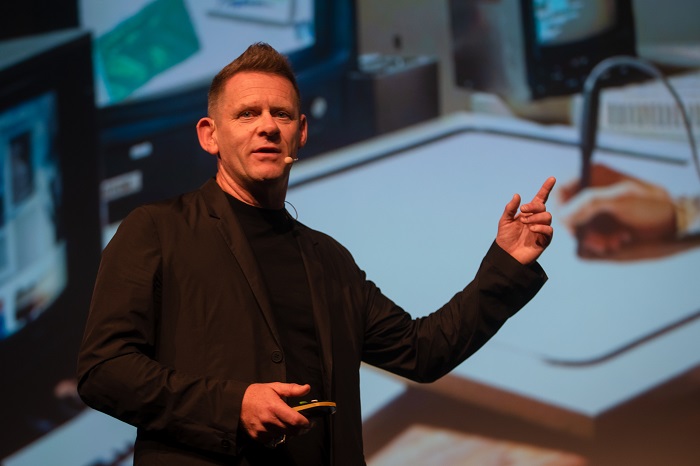 Brand Management Conference, Gregg Harper
Without attention it is impossible to achieve recall in advertising and attention is thus a commodity that the advertising industry should emphasize. The approach emphasising the importance of attention, known as the attention economy, is increasingly making its way into the concept of media planning, known as attention planning. It was discussed by Eduard Krečmar and Lukáš Jakoubek from Publicis Groupe. It is based on the assumption that traditional metrics used for media planning, such as impressions, view counts or view-through rates, show only part of the advertising results.
In contemporary marketing, the issue of attention has been most extensively addressed by Karen Nelson Field. According to her, consumers alternate periods of no attention with periods of little attention and periods of full and active attention. The biggest problem is that the gap between what is viewed and what consumers actually see is huge. This leads to only half of digital campaigns achieving a technically visible view. In addition, each platform has its own maximum attention capacity. Platforms (media channels) differ significantly in how much attention ads on these platforms receive. A high quality ad may get little or no attention on a certain platform, while on another one, it may get more attention.
For example, Lumen's measurement tool, which uses an eye camera and artificial intelligence to help a panel of respondents measure the attention paid to marketing campaigns in real time across different formats and platforms, can demonstrate that attention is generated even when visibility is low. The data presented at the conference showed among other things that 25% of respondents paid attention to an ad for more than 2 seconds. "
It would be a good idea to focus on campaigns that do not have that level of attention and try to bring in something from the campaigns that attract significantly more real attention
," said Lukáš Jakoubek and Eduard Krečmer. They stated that the attention time of the optimised campaign was increased by 17 percentage points.
Source:
mediaguru.cz