after two years of broadcasting, the average rating of CNN Prima News is 1.58% in the 15-69 audience group.
After two years of broadcasting, the average audience share of CNN Prima News is 1.58% in the 15-69 audience group (full day, source: ATO-Nielsen Admosphere). This is this year's average share, i.e. for the period January to April 2022. The station launched exactly two years ago, on 3 May 2020.
"Over the past year, we have managed to almost triple our full-day viewership and the CNN Prima News station is now steadily hovering at the 1.5% mark in CS 15-69, which is key for us,"
says CNN Prima News news and journalism editor Pavel Štrunc.
The station reached its highest ever share in March this year, at 2.33% (full day, 15-69), and closed April with a share of 1.44%.
For CNN Prima News, the connection with the online platform has been important since the launch. "The good synergy between the online and TV newsrooms allows us to process very quickly important news topics that are of interest to people in the Czech Republic and directly affect them. Thanks to this, we are able to get our content to more and more people. In March, across the entire multiplatform, this reached almost 8 million people. New programme formats and interactive elements, such as QR codes, which allow viewers to access detailed information on their mobile phones that did not fit into the Main News report," said Tomáš Večeřa, head of online news at CNN Prima News.
This year's average traffic to CNN iPrima.cz is 3.4 million real users (average for January to April 2022), according to NetMonitor data.
"In terrestrial broadcasting, the numbers are below the 1.5 percent share level of the paid specialty channels. So if the news project manages to break that threshold, it's really a sign that things are moving in a good direction. However, challenges will remain, as peaks in viewership for such high-profile stations are always tied to external events that affect the whole of society. So it will be necessary for them to maintain that steady level of viewership during the relative normalcy. That is to say, during the times when nothing much interesting happens," commented media expert Erika Luzsicza on the results.
For its second birthday, CNN Prima News launched a virtual tour of its studio - you can see it
here
.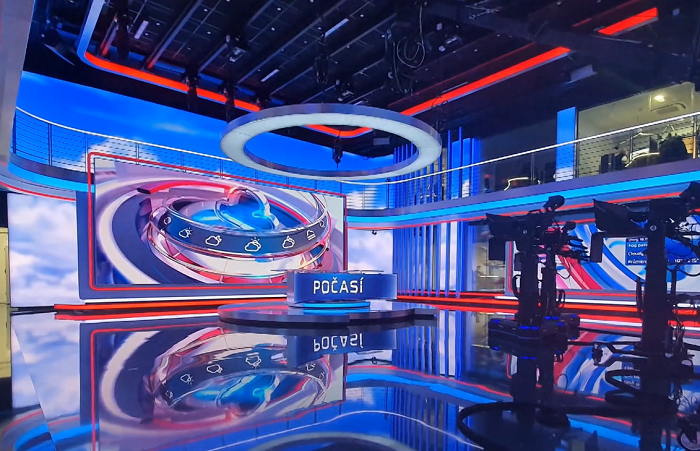 CNN Prima News studio
The work of the entire CNN Prima News platform team during the second year is summarised in the annual magazine with issue 2. In more than one hundred and fifty pages, it presents, among other things, how the station's newsroom works.
Source:
mediaguru.cz