Advertisers need to understand the different levers they can pull to improve ROI and to identify where resources should be put to maximise returns, reveals new research on the drivers of advertising profitability.
In a WARC Spotlight on Drivers of Brand Growth, Paul Dyson, co-founder of Accelero, updates his previous study from 2014 to include published data on over 28,000 ROIs from across the globe and finds some changes over that time.
Why advertising profitability matters
Maximising the return on advertising investment is important at the best of times and more so during price rises and negative growth. Advertisers can do a lot to improve the payback from their media budget, and even a small 10% improvement on a £10m budget is worth an extra £1m value.
Takeaways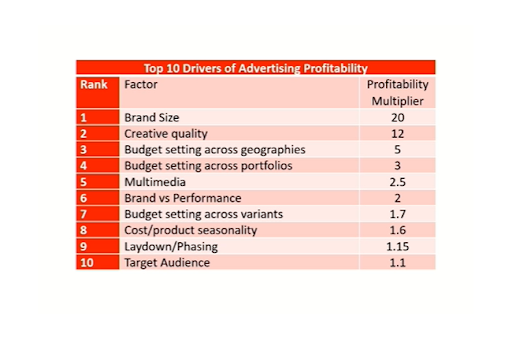 Source: Accelero


Brand size is the biggest driver of profitability, with a multiplier of 20.


Bigger brands win on both physical and mental availability and so find it easier to attract consumers through marketing.


If an advertiser has a portfolio of brands, then spending more on the bigger brands will generate the best returns.


As a brand grows so ROI will increase: when measuring effectiveness, understand that future media-driven sales will be higher due to growth from previous investment.


On average, the impact of budget size could halve the ROI, i.e. an ROI of six at a low budget could become a three at a high budget.


Creativity is the biggest single lever at an advertiser's disposal to increase ROI.


The media drivers have shown little change since 2014 with the exception of the lever of brand vs performance: this profitability multiplier has increased from 1.4 to 2.0.


Read more in the full article: Drivers of advertising profitability 2023
Source:
warc.com